While vietnum war the fact was known by not so many people in the world that
tens of thousands of Vietnam women systematic and almost automatically raped and brutally killed by Korean armies.
There are famous KOREAN proverbs 우는 아이 떡 하나 더 준다 
That's why Koreans have continued strongly to request apology toward Japanese Government even after getting huge amount of compensation money.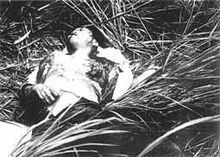 A dying woman who was cut out her breasts by South Korean Marines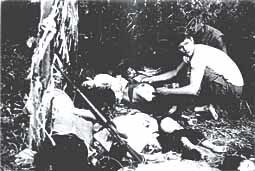 U.S Marines recovered victim's bodies who were killed by Republic of Korea Marines in Phong Nhi and Phong Nhat village on February 12, 1968
https://en.wikipedia.org/wiki/Phong_Nh%E1%BB%8B_and_Phong_Nh%E1%BA%A5t_massacre
To the contorary they always turns a blind eye to Vietnamese who were raped and brutally killed by Korean soldiers.It is amazing to know the fact that Koreans and Korean Government never made a formal apology toward Vietnam people.
Voices of Vietnam made a strong protest toward Korean president Park Geun-hye.
We are eager to know what Korean poeple are thinking of for the first time being requested apology of their own national armies did brutal action toward Vietnamese.
(picked up from Voices of Vietnam)
WASHINGTON, Oct. 15, 2015 /PRNewswire-USNewswire/ -- Voices of Vietnam, an organization dedicated to raising awareness about Vietnamese women who were raped and sexually assaulted by South Korean troops during the Vietnam War, today announced that Vietnamese survivors of rape and sexual assault at the hands of South Korean soldiers during the Vietnam War today sent a letter to Republic of Korea President Park Geun-hye calling for an apology for crimes committed against them.
"We write you today because we fear that our stories will be forgotten.
Decades have passed without a formal apology, acknowledgement, or reparations from your Government.
Even so, the Government of Vietnam recently signed a trade agreement between our two countries, binding our futures while ignoring our shared painful past," their letter stated.
"We and our sisters across the country, and our thousands of children and grandchildren face many challenges today, including in securing an education and finding work, and receiving the support of basic social services. Our experiences and struggles have been rejected for more than four decades by the people and government of Korea."
"We survivors and Lai Dai Han also want to look ahead. While we are old, we want to have hope for the futures of children and grandchildren. We urge you to issue a sincere and deep apology for the crimes committed against us and our families and to consider reparations for the decades of hardship we have faced. With that, we wish to move forward with the dignity of recognition, and the support of those in a position to take responsibility."
One signatory of the letter, Nguyen Thi Bach Tuyet, started a petition on Change.org calling on President Park to apologize for the crimes committed against her by South Korean troops. The petition currently has over 26,000 signatures.
The full text of the letter, to watch their video testimonials and for more information, please visit www.VietnamVoices.org
Co-chaired by Former Congressman Anh (Joseph) Cao of Louisiana, the first Vietnamese-American member of Congress, and Cyndi Nguyen, Executive Director of VIET New Orleans, Voices of Vietnam provides a platform for those that have spent years in silence.
Logo -
http://photos.prnewswire.com/prnh/20151012/276123LOGO
http://www.prnewswire.com/news-releases/vietnam-war-rape-and-assault-victims-call-for-apology-from-korean-president-park-geun-hye-300160411.html
SOURCE Voices of Vietnam